On the train, London, UK Thursday 17 November, 2011 10.45pm GMT
Donations for Movember gladly accepted at http://uk.movember.com/mospace/789888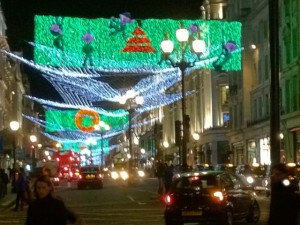 I'm currently returning home from a most fantastic evening in London. I was invited to a bar/restaurant called Circus by an events team at the company that runs Odeon cinemas to showcase the venue for holding an event. I had been to Circus about 12 months ago and the acts they put on in there.. spectacular! I spent time networking with a few people… I knew no one there when I walked in but by the time I left the place had exchanged a few business cards and had some decent conversations.
Having left this place, the next stop was one of Odeon's cinemas, for the private screening of the film Arthur Christmas 3D. This is the first film I have watched in 3D… more than that though, I loved the film. The story itself, the emotions that were portrayed in it.
Briefly… it portrays the character of a person who cares for people.. even if it is one out of billions of children… he simply didn't want that one child to feel left out.
There are lessons to be learnt here. In our daily lives we go about thinking that as long as we do our best for the majority of people then it is ok. Even in business we tend to think of pleasing most rather than all.. We are always told that we can not please everyone.
Arthur, in the film cared for the one person that everyone thought, well we have hit 99.9999999% of our target, so it is ok to let that 0.0000001% down.
I am not saying it is feasible all the time, however I am saying that we must constantly try. Have you ever done something for someone and seen their face light up? It makes it all worth it, doesn't it? Imagine the feeling you would have if you did that for pretty much everyone you had to do something for?
Walking around London this evening, the Christmas spirit was in the air, the Christmas lights sparkling, people going out with friends after work, and people were smiling. It felt good. Smiles are infectious.. And one of the things that people can easily do is keep smiling.. the feeling spreads to others around you. 🙂
Smile, just like the Heal UK charity worker I came across on the tube tonight. He was beaming from ear to ear the whole time. When he got off the tube I chatted with him for a short while and took the pic…
Anyway, throughout the film I felt like a child again… it felt good. I love being a child again.. and I get that chance everyday now with my little one. I can be as crazy as anything, sing in my donkey like voice, dance and prance around with arms flailing all over the place, and the little one does not judge or mind. Hahahaha.
My challenge to my readers.. be a child again, even if it is for five minutes a day. I promise you will love it.
On to Movember…
I am again attaching pics of the left hand side and the right hand side of my "Mo". The very thin hair bits of the moustache are irking me a bit though.. The shape is there but it all looks a bit disjointed. I guess I will just have to see how it goes over the rest of the month…
Running total in donations remains at £110.
I hope more of you can support my "Mo" growth by donating (even if it is just £1 / $1 / €1) to the Prostate Cancer charity via my Mo Space at
http://uk.movember.com/mospace/789888
On this night, where the moon is sliced perfectly in half… I bid thee a good night…