London, UK     23 November, 2010     3.45pm GMT
Donations for Movember gladly accepted at http://uk.movember.com/mospace/789888
Back in London at the LINX meeting. Last night's LINX Social Event was great. It was held at the Circus Bar in London's Covent Garden. The whole venue was hired out and the acts that were put on… amazing!
Food was good too. Not that much veggie stuff available, but the waiting staff soon realised whom the vegetarians were and targeted them whenever they brought out the veggie food.
Was great to network and catch up with my peers in the industry in a relaxed environ.
Brrr.. London is cold. I'm suited and booted up today, have an overcoat and still felt cold walking around outside. I got spoilt in my various travels earlier this year with most of the places I had been to being warm. And now I miss that warmth that my body craves!
The month of Movember is closing soon, and the question on my mind is whether I should shave off the moustache or keep it past the end of the month and into the new year. It has certainly been a change and a new look for me… and in some ways, I'm actually liking it.
Comments people have made on my new look include, "You look wise," and "Very avant-garde," and "It suits you". There was also the comment, "You remind me of Johnny Depp". Certainly very encouraging comments… What does the readership think?
So today's pictorial update: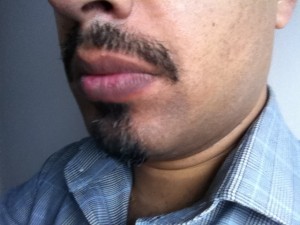 The generosity of the various donors is heart warming. In just under 24 hours, an extra £120 has come in, in donations and I now have £354 collected in funds and I expect more will follow in the coming days. 🙂 I would like to bring in at least £500.
Thanks to those of you who are supporting me in this. I hope more of you can support my 'Mo' growth by donating (even if it is just £1 / $1 / Eur 1) to the Prostate Cancer charity via my Mo Space at