London, UK     22 November, 2010     4.30pm GMT
Earlier today, one of my contacts relayed a sad story to me regarding someone they know who has Prostate Cancer. It is all very well me growing a moustache to support more research into this, bringing a bit of fun into the process, however we must all realise and be aware that Prostate Cancer is prominent and is a silent killer.
Men tend not to have regular checkups for things… women tend to be much better in this regard, they are more in tune with their bodies and functions. As men, we tend to brush things under the rug… bury our head in the sand in the belief that whatever problem there is will go away.
However we need to be more aware of this. As men we should become more attuned to changes in our bodies, to things that are not the norm and then do something about it. There needs to be much more information around, so that we are better educated and have more knowledge about this subject.
I applaud the Movember team for starting this initiative and have total respect for them.
On a lighter note, I went to the barber today to get my moustache trimmed and tidied up. It actually looks a lot better as you will note from today's photo.
John, at The Billericay Barber Shop attended to my moustache and did a fantastic job. When it came to paying him, he took nothing and suggested I put the money toward the Prostate Cancer Research charity in my Mo Space. I will certainly do this and attribute the funds to him. He also mentioned I could go back to him anytime until the end of the month to keep it tidy. 🙂
I also got news from another contact that one of their colleagues had tried to donate online but for some reason they were blocked from the website. Instead they are sending through cash to me which I will contribute via my Mo Space using my own debit card and attribute the funds to them.
I am truly thankful to everyone for their support. Every gesture, whether large or small makes a massive difference and I am touched by each one. The generosity of people never ceases to amaze me!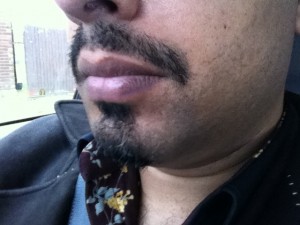 Since yesterday, I have emailed all my contacts on Facebook and also SMSed pretty much everyone in my phonebook reminding them that there are now only 9 days left until the end of the month and asking for help with raising funds. This seems to have worked as I now have £234 collected in funds and I expect more will follow. 🙂 I would like to bring in at least £500.
Thanks to those of you who are supporting me in this. I hope more of you can support my 'Mo' growth by donating (even if it is just £1 / $1 / Eur 1) to the Prostate Cancer charity via my Mo Space at
http://uk.movember.com/mospace/789888
My love to all…