Carcavelos, nr Lisbon, Portugal     16 November, 2010     9.30pm WET
First the Mo update and then onto my recent travel…
The pic was taken this morning, after shaping it a bit with a razor: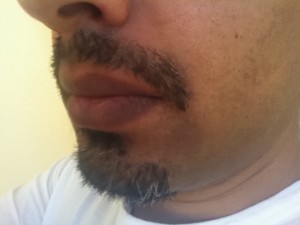 It is now just over half way through the month of Movember and I would like your help in raising more funds. So far £190 has been raised via my Mo Space.
Thanks to those of you who are supporting me in this. I hope more of you can support my 'Mo' growth by donating (even if it is just £1 / $1 / Eur 1) to the Prostate Cancer charity via my Mo Space at
http://uk.movember.com/mospace/789888/
As for my recent travel, here are some of my experiences and comments.
Whenever I travel long haul, sometimes short haul, I consider myself to be in a spa. The lack of an Internet connection, peace from ringing phones. All I need to do is sit back and relax, take in a movie or two, read a book, listen to music, take a nap or sleep for longer.
I also try and regulate my sleeping pattern either just before the flight or during the flight. I find that this helps with preventing or massively reducing jetlag.
Traveling out to Toronto was done in Premium Economy. As I was getting to my destination in the afternoon, I did not want to sleep during the flight, although I did take a 45 minute nap. The only thing was, they did not have the interactive entertainment system, so I was stuck with their 'tape loop' system to watch the films I did want to watch. So, watched the comedy "The Other Guys", followed by "Inception" which I thought was an absolutely brilliant movie and I did get my head around it whilst watching it, and then onto another comedy "Killers" however the entertainment system got switched off 20 minutes before the end of the film.
The flight was delayed taking off due to the extremely bad weather in London. When the plane was hurtling down the runway, we could hardly see outside the windows… it was just too wet. Anyway, take off we did and once we got just above the clouds (headed in the direction of Oxford), I spotted the most amazing scenery… it was a rainbow in the clouds! Hardly ever does one spot such beauty and I had to take a pic… so here it is for you to enjoy too.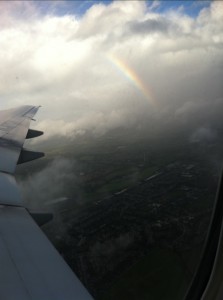 We landed in Toronto a little late, but I was out of the airport within a few minutes as I had hand luggage only.
On the way back, I was in Business Class, on a late flight, getting into London early the next morning. I had planned on sleeping most of the way… so had the pre-flight supper in the BA Lounge. I have to say at this point that the person at the front desk in the BA Lounge in Toronto airport was fantastic. Her name is Sandra and she treated me as a VIP from the time I stepped in through the door, welcoming me in and introducing me to the facilities int he lounge. She is definitely a 'Leader without a Title'. Once on the plane when the interactive entertainment system was running, seeked out the movie "Killers" and forwarded it to the part I had seen upto and paused it, put the screen back, made the bed, and slept until an hour before landing when breakfast was being served. Watched the last part of the movie whilst having breakfast. I had a window seat and facing backwards. Take off is always interesting this way – gives one a different perspective when looking out of the window. πŸ™'
Once again, I had hand luggage.. two pieces of small suitcase size.. generally OK on BA when traveling non-economy. However my onward flight to Lisbon was on TAP and as I was flying economy on that I needed to put one of them in the hold.
So, off the plane at Heathrow into Terminal 5 and I then follow signs for flight connections to Terminal 1. Get on the internal bus and at Terminal 1 have to go through security check before approaching the Airline desk to get my boarding pass. Get boarding pass and they tell me that they do not handle luggage at that desk and my luggage will be put in the hold at the gate. OK then.
So, I have just come off a long flight and want to have a shower. Terminal 1 no longer has a BA lounge! Ask around and Heathrow no longer provide their own shower facilities. Starwood lounge has showers but as I am traveling economy they won't let me use their facilities.
So, off I go to Terminal 3 where I know there is a BA lounge, go back past Terminal 1 security, onto the internal bus and into Terminal 3 where my luggage has to go through another security check. Once through I head straight to the BA lounge and have a much needed shower and change of clothes.
Then back to Terminal 1 on the internal bus and through security check again. The staff recognised me though. πŸ™' Then just waiting for a delayed flight to Lisbon. Funnily enough, no one was checking luggage at the gate so I carried both my small suitcases onto the plane. This was nice as I was able to get off at Lisbon Airport and get outside in hardly any time.
Then time to collect my car, which was a 5 minute process and then onto the road toward Carcavelos, in rush hour due to the delayed flight.
Once in Carcavelos, a certain peace set in. Being by the ocean with the sound of the waves, the proximity to the beach, the warmer weather, the decent food, allows me to think with clarity, gives me time to contemplate. Much needed. Hence why I love the place.
Until next time…